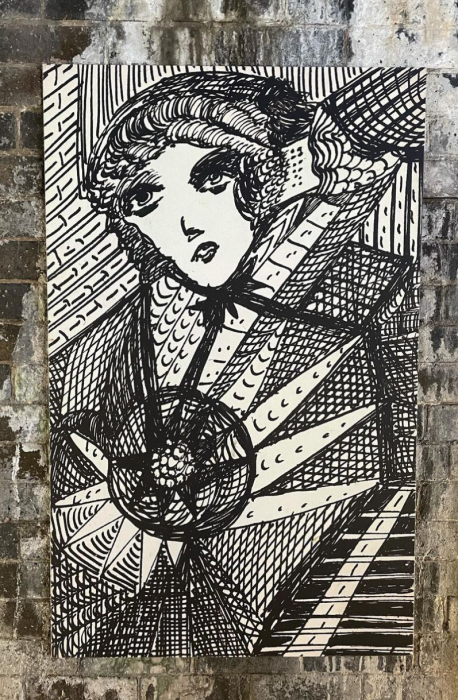 Madge Gill: Nature in Mind, curated by The Line with Sophie Dutton, is an exhibition across five sites in Newham that celebrates the inspiration the artist found from natural surroundings.
Madge Gill (1882-1961), who lived and worked in Newham 1920-1961, was a self-taught artist. She created meticulous small-scale and monumental works, skilfully exploring different techniques and formats including paints, inks and textiles. Gill's life story is one of triumph over adversity. The hardships she endured saw her turn to spiritualism and making, both providing relief from her mental turmoil. Her drawings often feature repetitive patterns of flowers, swirling shapes, architectural forms and checkerboards. A female figure often appears in her work, though Gill never offered an explanation of who she was.
Gill created her work on whatever she could find, from postcards to large-scale calicos. Red Women was created in a single evening, on the reverse of the original drawing she wrote 'May 19 – 49. Evening 8pm'. Working along a roll of paper, the artist would have been unable to see the full drawing whilst making it. Due to its scale, this 9-metre long work has never been displayed in its entirety until now and it is the only installation in this exhibition that has been reproduced at its original size. It can be seen at the Europa Trade Park opposite Star Lane DLR
Nature in Mind takes the form of large-scale outdoor installations of Gill's work, that reflect the artist's own process of bringing her largest works outside, into the garden, to see them in their entirety. She would often reference floral elements in her work and once stated: 'If I were a man, I would have gone abroad and studied botany'.
Other Madge Gill installations can be discovered at:
• Network Rail underpass, Queen Elizabeth Olympic Park
• House Mill, Three Mills Lane
• UKPN bridge, Cody Dock
• Royal Victoria Dock, by Emirates Air Line terminal
In partnership with Newham Council. Image courtesy Newham Council's Heritage Service. Installation funded by Heritage Lottery Fund.