Inner Landscapes was a collaboration between Andrew Petch-Jex, the Henry Boxer Gallery and Plymouth Arts Centre. It was held at the Plymouth Arts Centre between April 22nd and June 18th 2006. The introduction to the catalogue was writen by Colin Rhodes.
Artists included: Nick Blinko, Rosemary Carson, Henry Darger, Richard Buchanan-Dunlop, Madge Gill, Augustin Lesage, Edmund Monsiel, Donald Pass, Austin Osman Spare, Ionel Talpazan, Louis Wain, George Widener, Scottie Wilson and Carlo Zinelli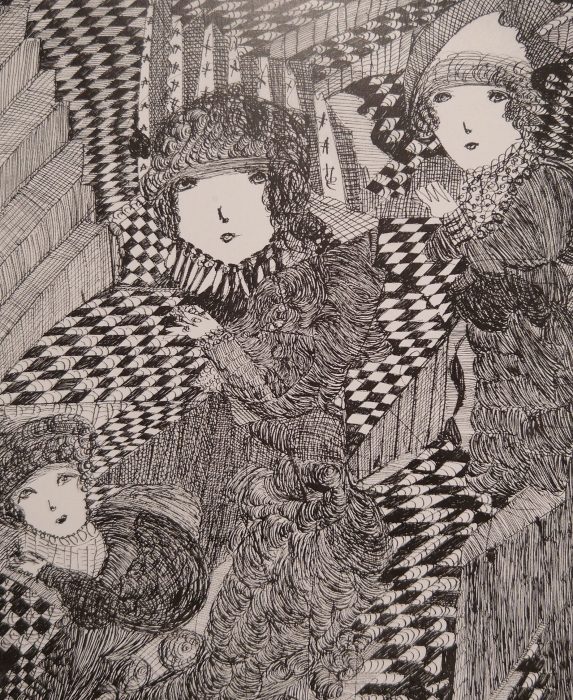 Inner Landscapes presents an exciting mix of classic and more recent Outsider and Visionary art. Established names like Augustin Lesage, Scottie Wilson and Madge Gill, who were collected by the surrealists, and Donald Pass, whose painting was greeted enthusiastically decades ago by then Tate Gallery Director, Sir John Rothenstein, rub shoulders here with new faces like George Widener and Richard Buchanan-Dunlop. Most are self-taught as artists, although in the cases of some, like Austin Osman Spare and Louis Wain, the visionary mindscape broke through the repressive veneer of sustained artistic training and professional practice. Though they come from a variety of backgrounds, the artists gathered together here are connected by the power and singularity of vision revealed in their work. They all seemingly have access to 'other' places (understood both as spatial metaphor and lived experience), enjoying or enduring realities markedly different to the mundane world.
Excerpt from text by Colin Rhodes