13th November 2015 to 17th April 2016 at the Collection De L'Art Brut, Lausanne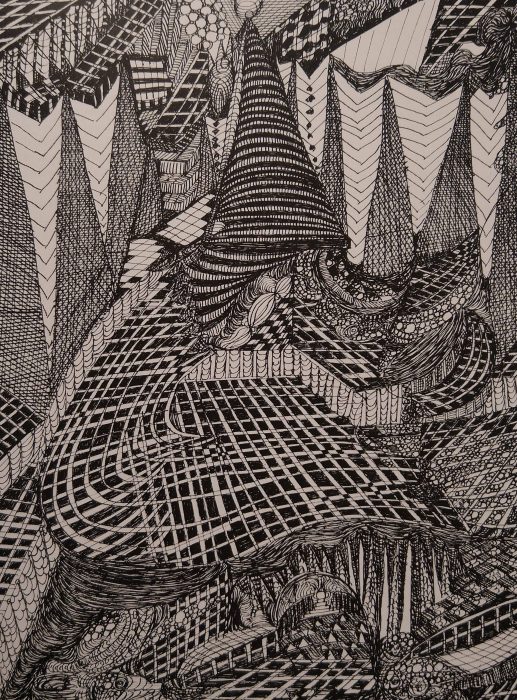 Initiated in 2013, the Art Brut biennials continue this year with the Architectures exhibition which brings together more than two hundred and fifty drawings, paintings, sculptures and textile creations. These works are due to fifty-one authors of Art Brut and reveal the diversity of techniques, materials, dimensions and formal languages ​​used.
This second biennale explores the theme of architecture and presents a selection of works – some never exhibited – all focused on the theme of the building. Representations of houses, buildings or cities, but also ground plans, elevations of facades, sectional or perspective views come together and dialogue. However, the authors of Art Brut disregard the geometric constraints and conventions that ordinarily order the design of architectural drawings. Here, the rules of perspective are diverted and subjected to a very personal interpretation.
During often troubled life journeys, the creators of Art Brut sometimes find themselves forced into a place they did not choose. Inmates of psychiatric hospitals, prisoners or emigrants in particular may perceive their living environment as foreign and hostile. Some people feel the need to reclaim their environment by projecting their vision of an ideal architectural space onto paper. Each author orders, designs and illustrates his own fantasized universe.
The vision of architecture affirmed here by the creators of Art Brut therefore takes on a new dimension, that of an escape from everyday reality.
With works by:
Juliette Élisa BATAILLE – Filippo BENTIVEGNA – Georges BERTHOMIER – Gregory L. BLACKSTOCK – Benjamin BONJOUR – Édouard BOSCHEY – Luigi BRUNETTI – André CAR – Aloïse CORBAZ – Joseph CRÉPIN – John DEVLIN – DIEGO – Paul DUHEM – Paul END – Samuel FAILLOUBAZ – FLORENT – Jacqueline FROMENTEAU –Madge GILL – Patrick GIMEL –Joaquim Vicens GIRONELLA – Jules GODI – HEER – Magali HERRERA – Stefan HOLZMÜLLER – Testuaki HOTTA – Norimitsu KOKUBO – F. KOUW – Augustin LESAGE – Raphaël LONNÉ – Marie-Rose LORTET – Auguste MERLE – Joseph MERLE – NIKIFOR – Helmut NIMCZEWSKI – Prinz OTTO – Guillaume PUJOLLE – Émile RATIER – Marco RAUGEI –Royal ROBERSTON – Hans SALETMEIER – Victorien SARDOU – Yuri TITOV – Johann TRÖSCH – Yuji TSUJI – Berthe URASCO – Pepe de VALENCE – Pascal VERBENA – Pascal VERBENA WEY – George WIDENER – Scottie WILSON – Adolf WÖLFLI
Text from Collection De L'art Brut